Pineapple salsa is super easy to make and so refreshingly delicious! Enjoy its sweet, tangy, and spicy medley flavors with chips or grilled meat, or seafood.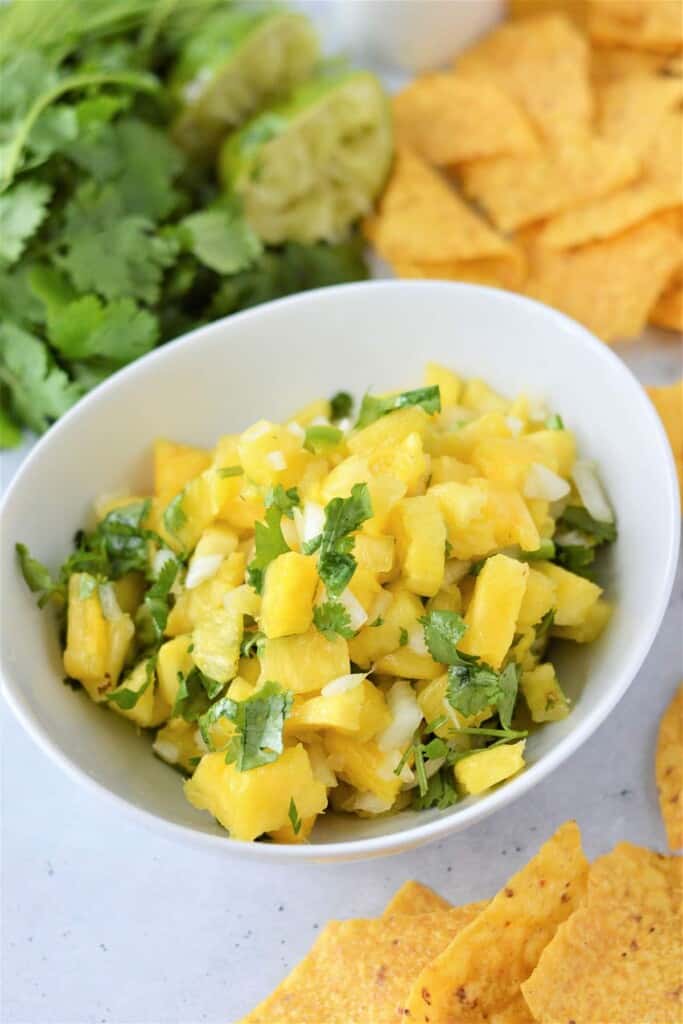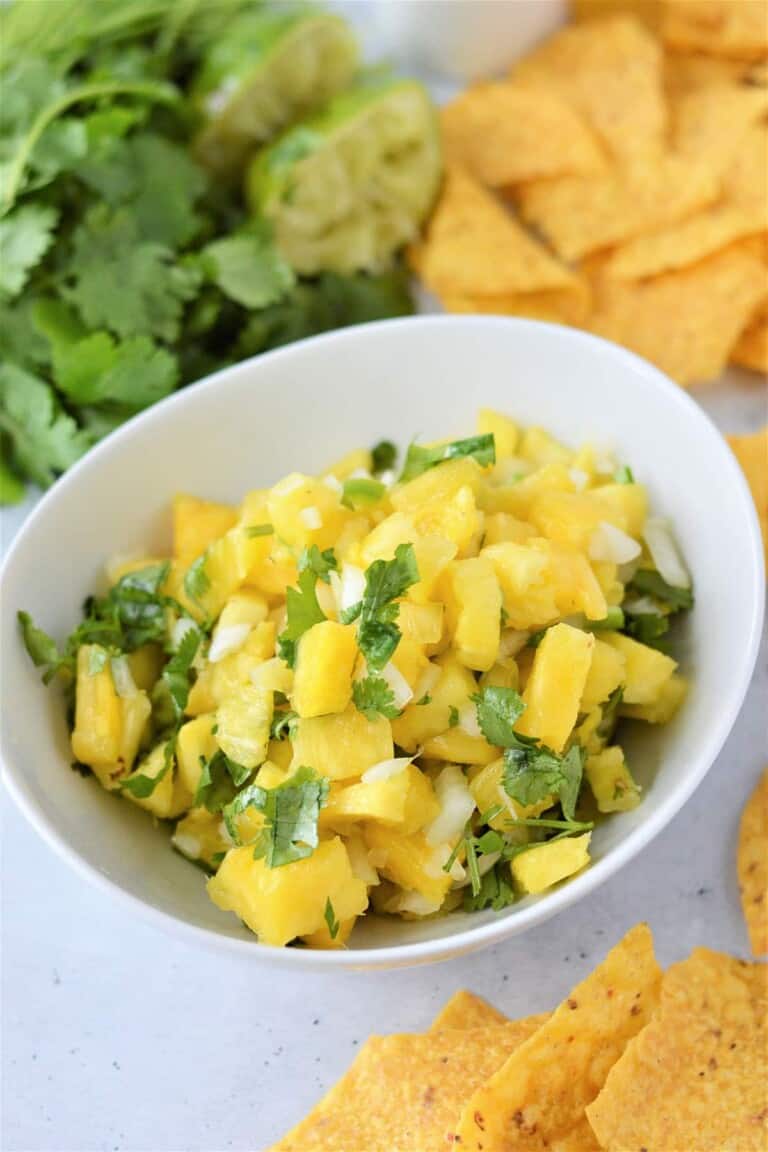 Fruit salsas are among my favorite things to make for a midday snack or appetizer, especially during the summer months when all sorts of juicy fruits are abundant. You'll find many of my salsa recipes on my other blog, Onion Rings and Things, but today I'll be sharing with you one of the best!
This pineapple salsa is a healthy and tasty treat you'd want year-round. It's light, refreshing, and full of good-for-you nutrients. It's great with chips for snacking and as an accompaniment to grilled meat or seafood.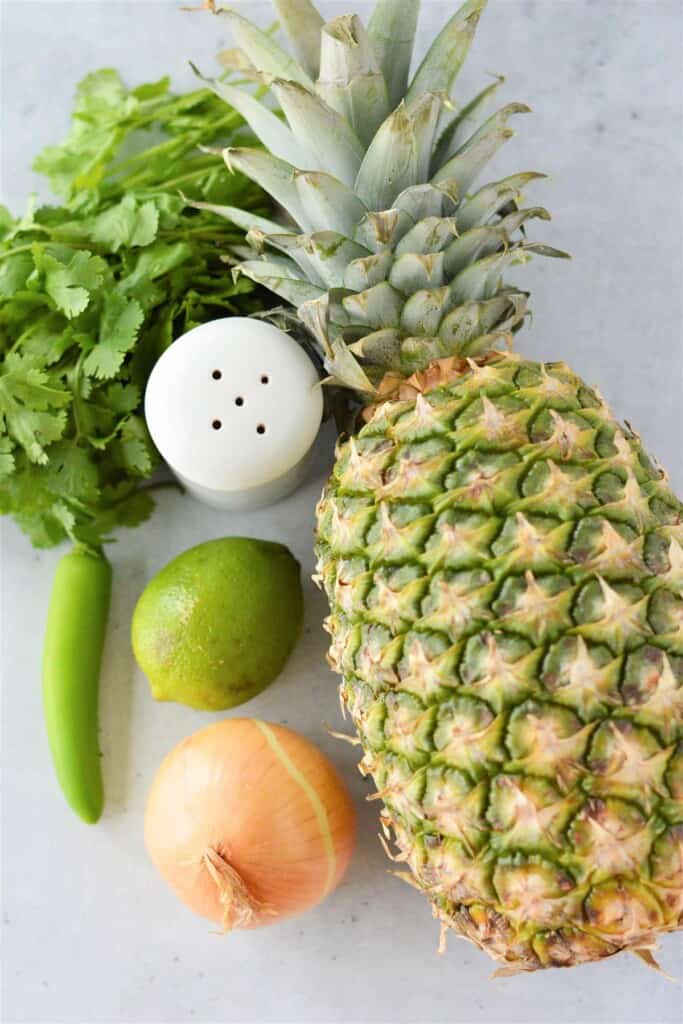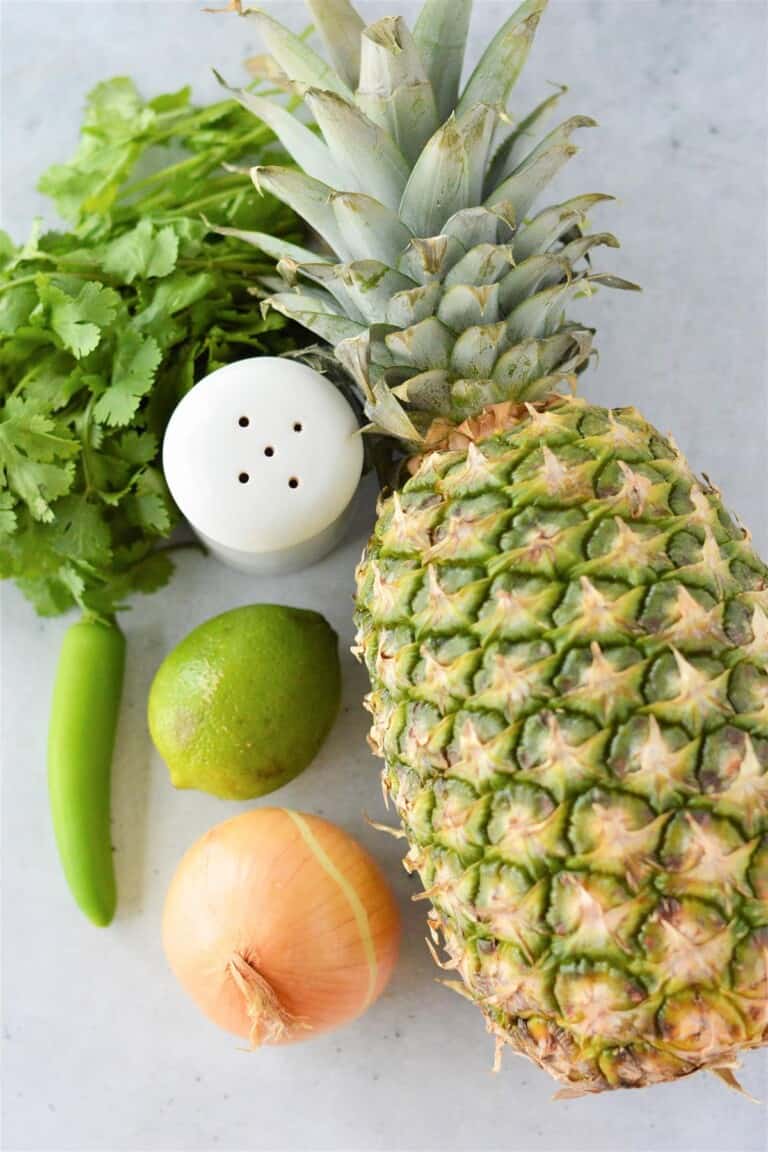 It takes less than 15 minutes to make with only six ingredients and tastes so fresh and delicious. Its sweet, tangy, and spicy flavors are sure to hit the spot. Perfect for potlucks or BBQ parties!
How to choose a pineapple
The quality of this salsa depends on the freshness of the ingredients. To experience it at its best, use only fresh pineapples. Absolutely no canned stuff!
Although available year-round, its peak season is from March to July. Choose one that is plump, feels heavy and firm but not hard, without signs of wrinkling, dry eyes, or soft, brown spots. The leaves should be bright and green, and not yellowed.
Give it a good sniff! A perfectly ripe pineapple has a lightly sweet scent.
As the fruit will not continue to ripen after it has been harvested, pineapples are usually picked when already ripe and ready to eat. If you're not using it in the next few days, refrigerate it to keep it from fermenting.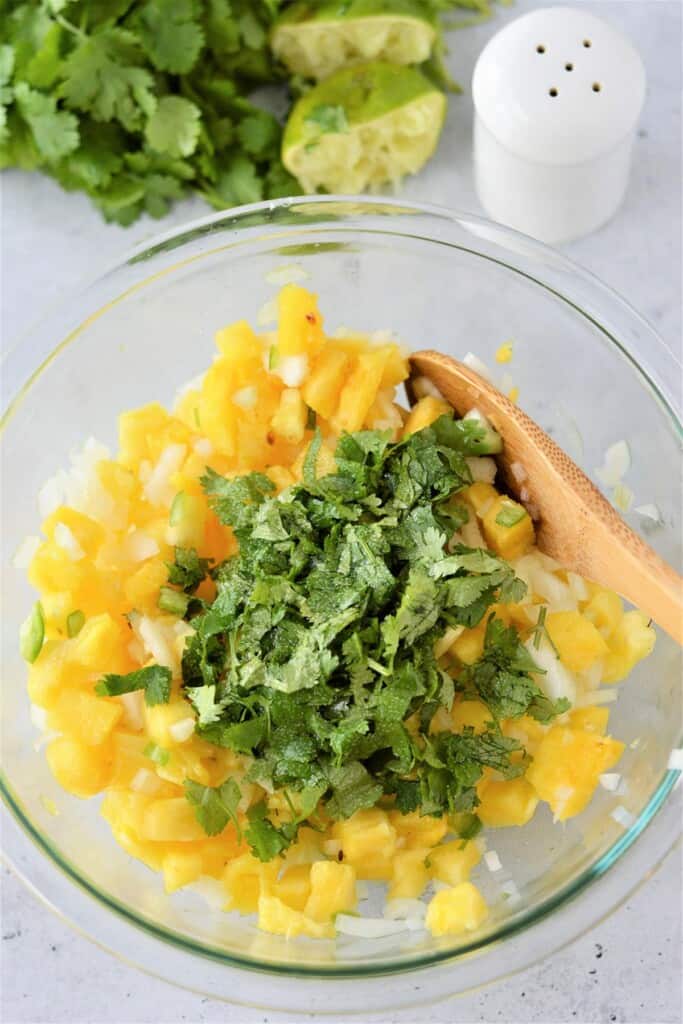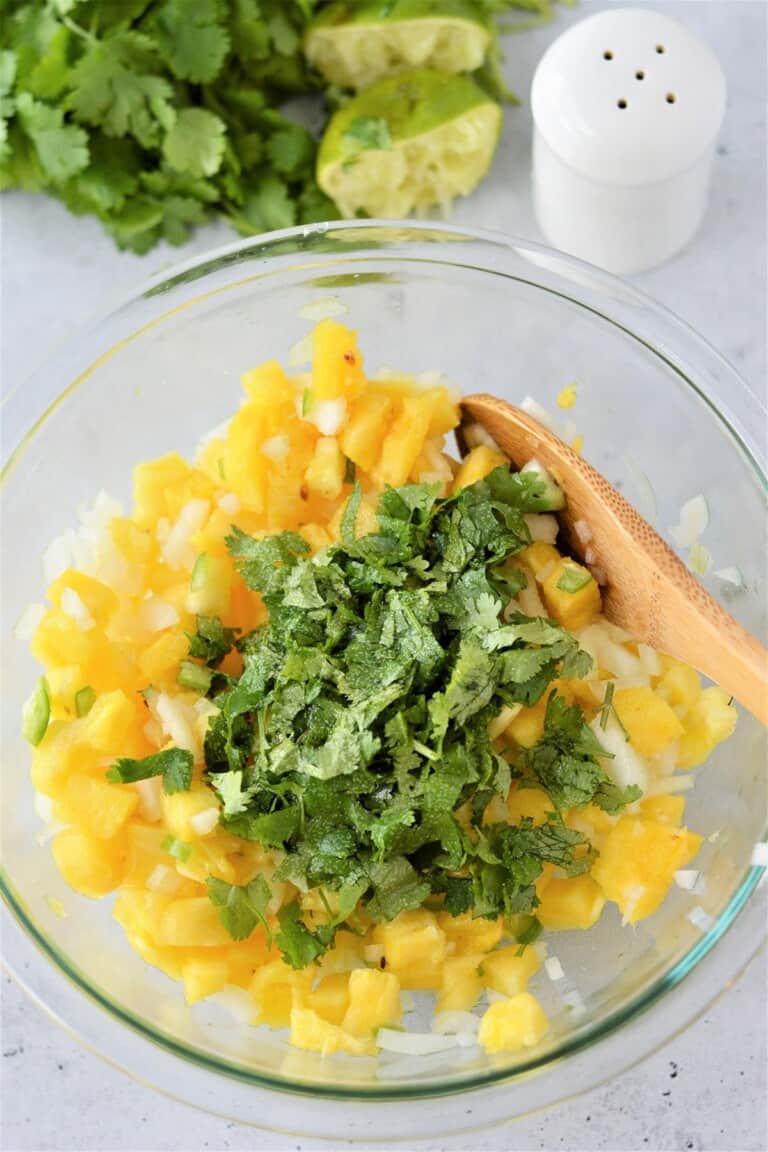 Prep Tips
For best results, dice the ingredients very finely.
This salsa is very simple with only 6 simple ingredients. Feel free to add red and green bell peppers and tomatoes for extra color, texture, and nutrition.
Not a fan of cilantro? Swap with chopped green onions!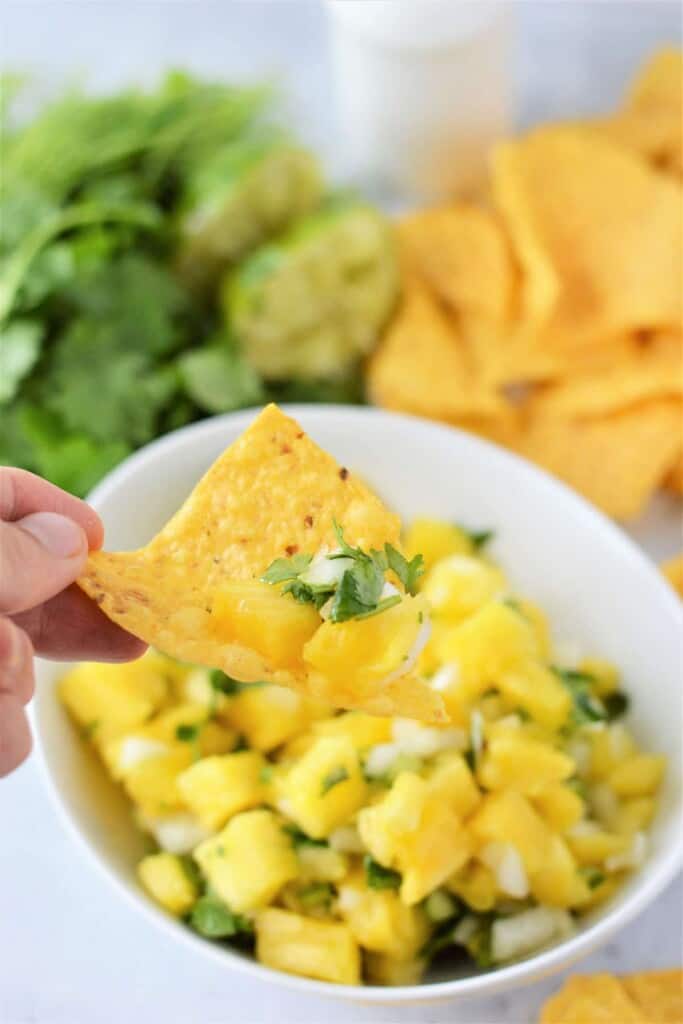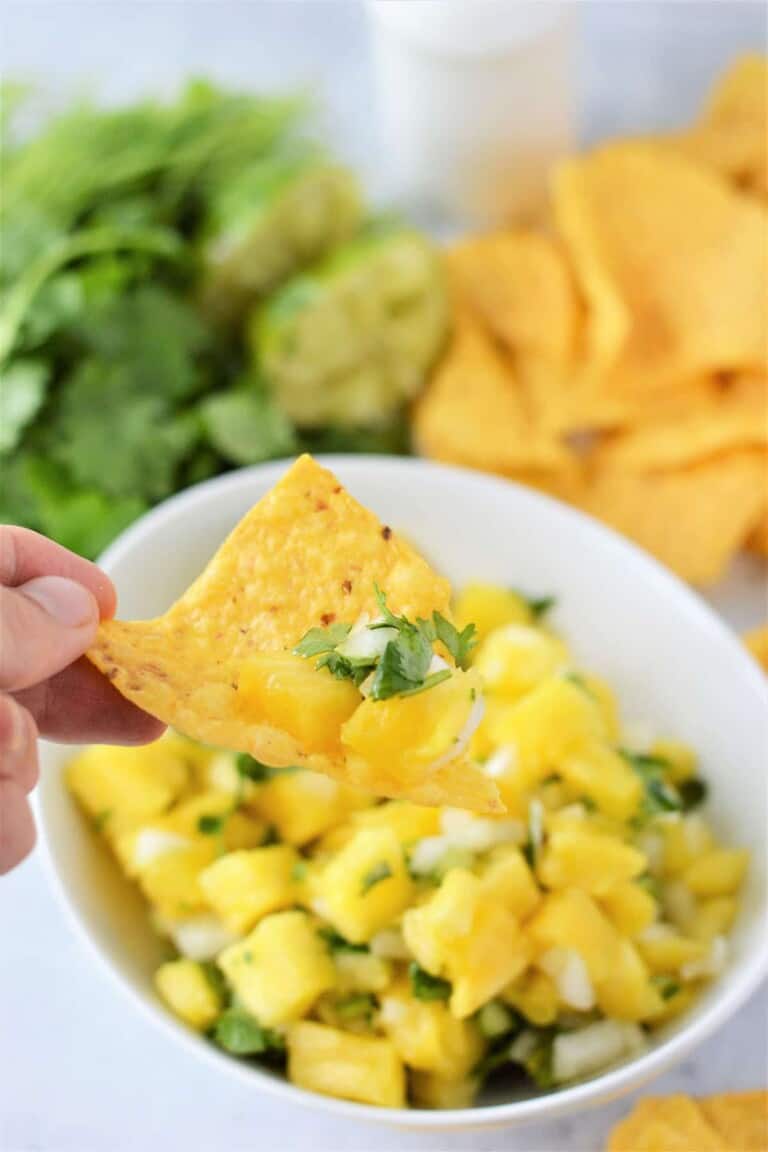 Serving suggestions
This pineapple salsa is delicious as a dip with chips, but it's equally amazing served over grilled meat, chicken, or fish.
Refrigerate leftovers in a container with a tight-fitting lid and consume as early as possible. The fruit tends to water down as it stands.